Regular price
Sale price
$4.95 USD
Unit price
per
Sale
Sold out
MONTREAL KITCHEN
Designed for steak, but great on everything, this all-purpose blend is course in texture and filled with depth, bringing bold garlic and black pepper flavor in the kitchen or on the grill. Montreal Kitchen is a blend of organic garlic, organic black pepper, kosher salt, organic coriander, organic smoked paprika, organic onion, turbinado sugar, 100% natural lemon, organic cayenne, organic thyme, organic chipotle, and organic cumin. Use it instead of salt & pepper and add flavor (and health benefits!) to all of your food!
*All ingredients listed as "organic" are Certified USDA Organic.


Each of these nutritious & delicious P.S. Flavor!™ blends have been custom designed by Culinary Nutritionist Pam Smith for restaurants worldwide, and can now be found in your kitchen!
Ingredients

Garlic, black pepper, sea salt, coriander, smoked paprika, onion, turbinado sugar, 100% natural lemon, cayenne pepper, thyme, chipotle, cumin
Share
View full details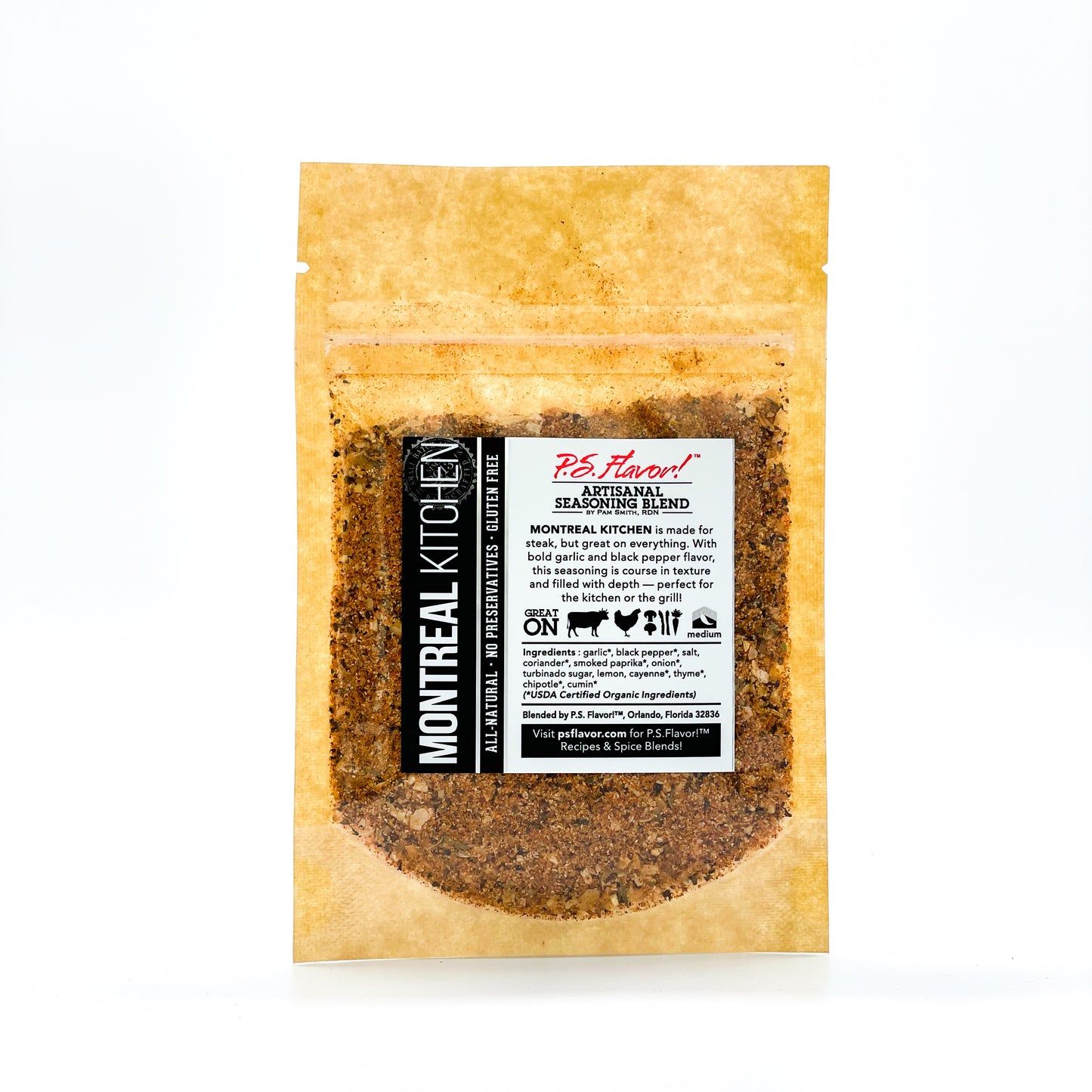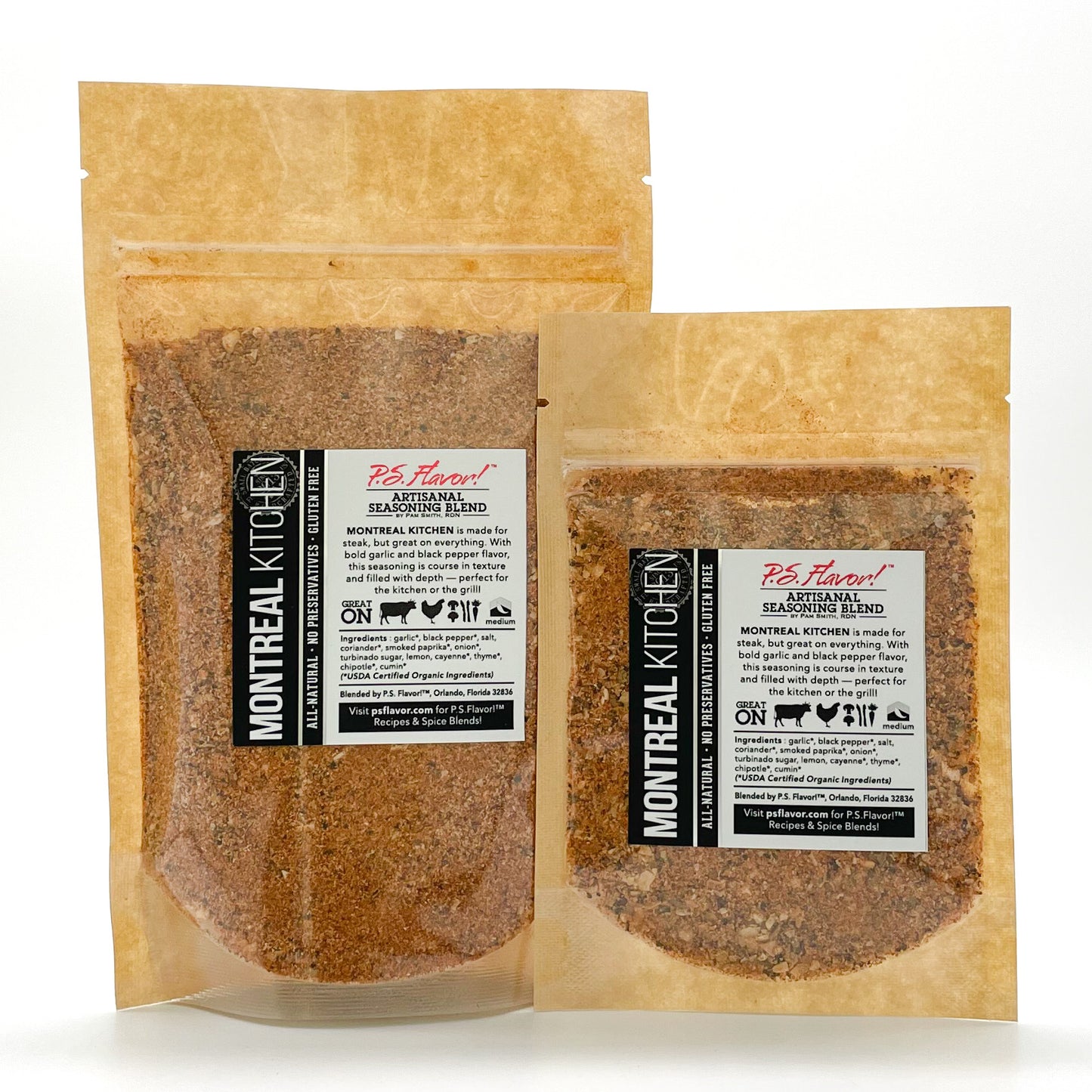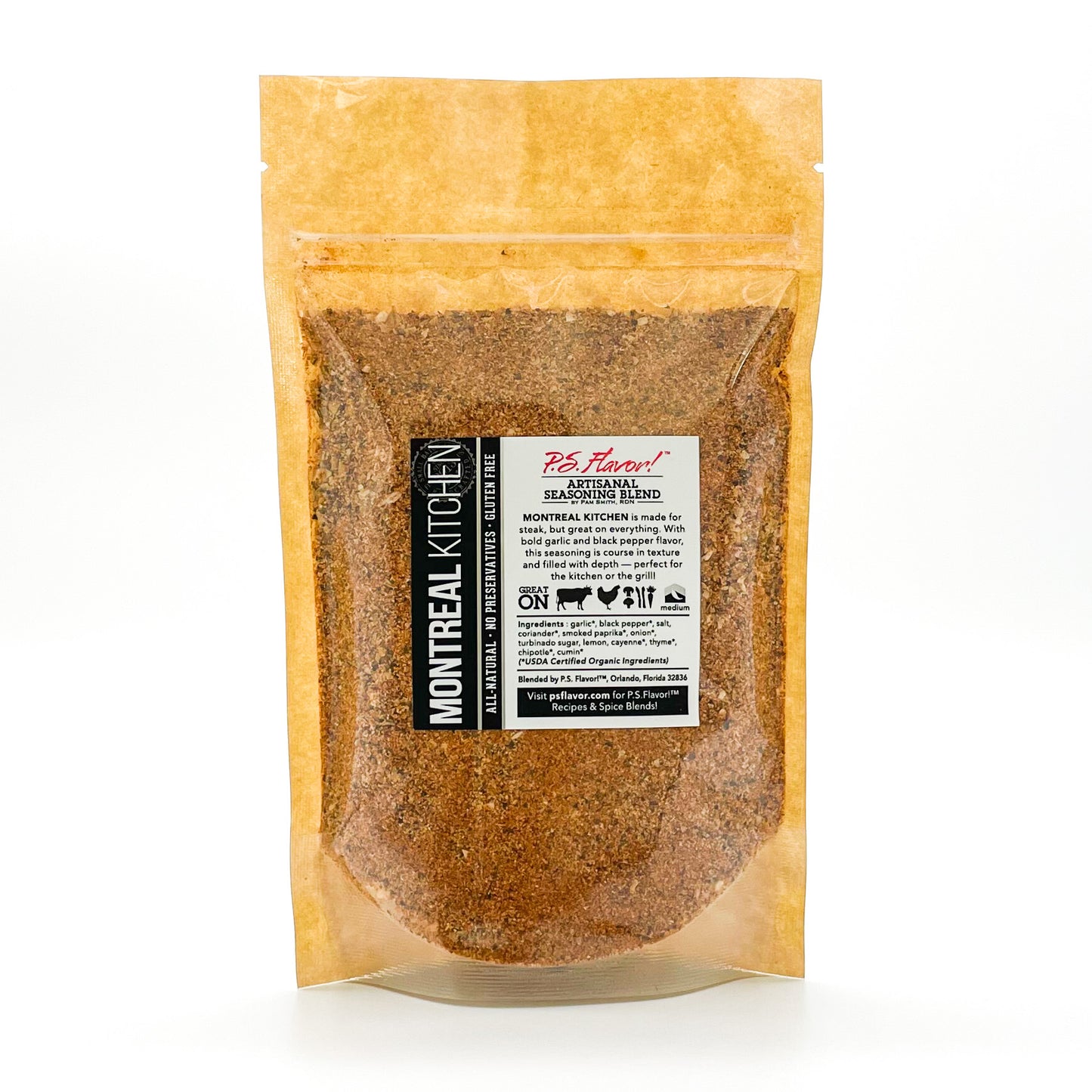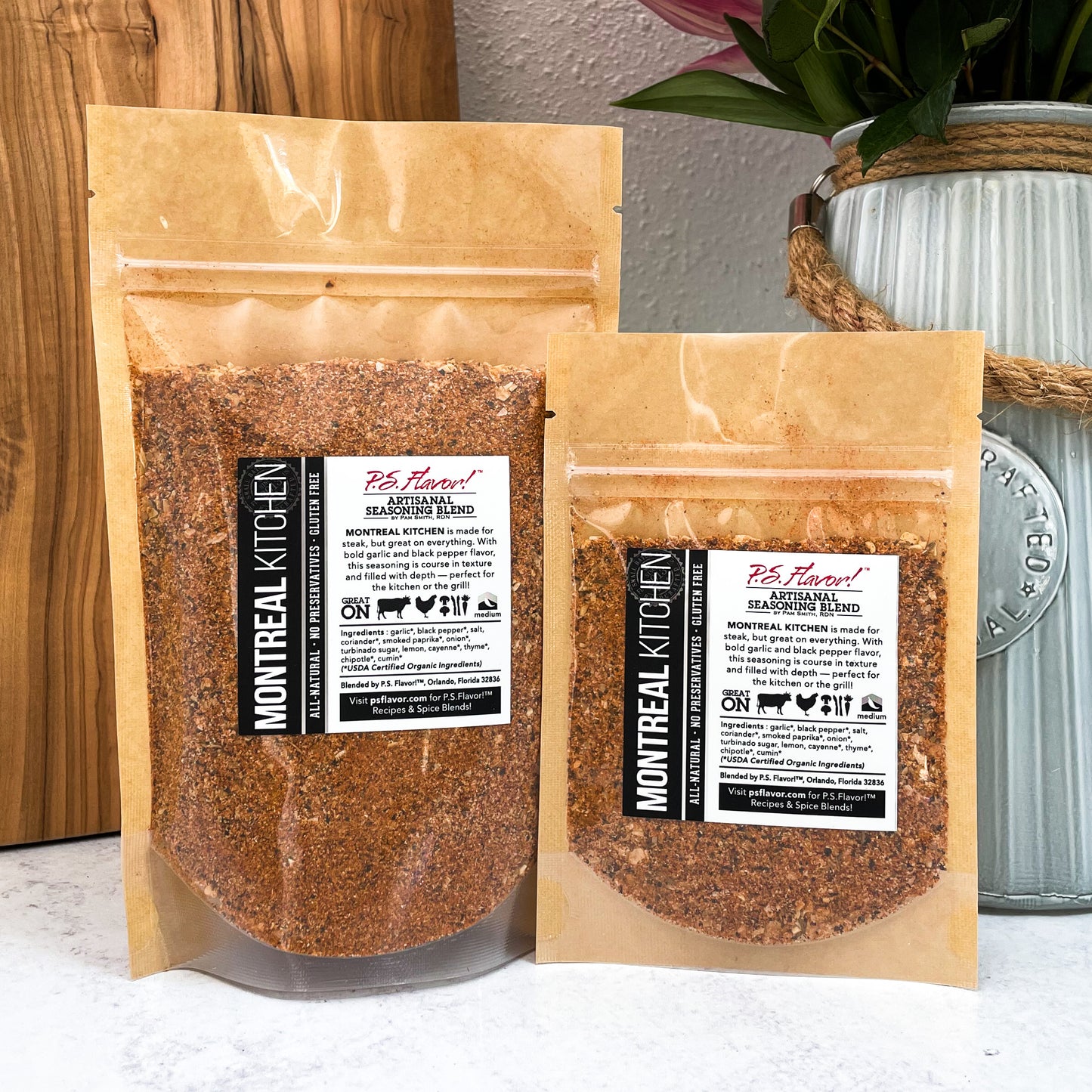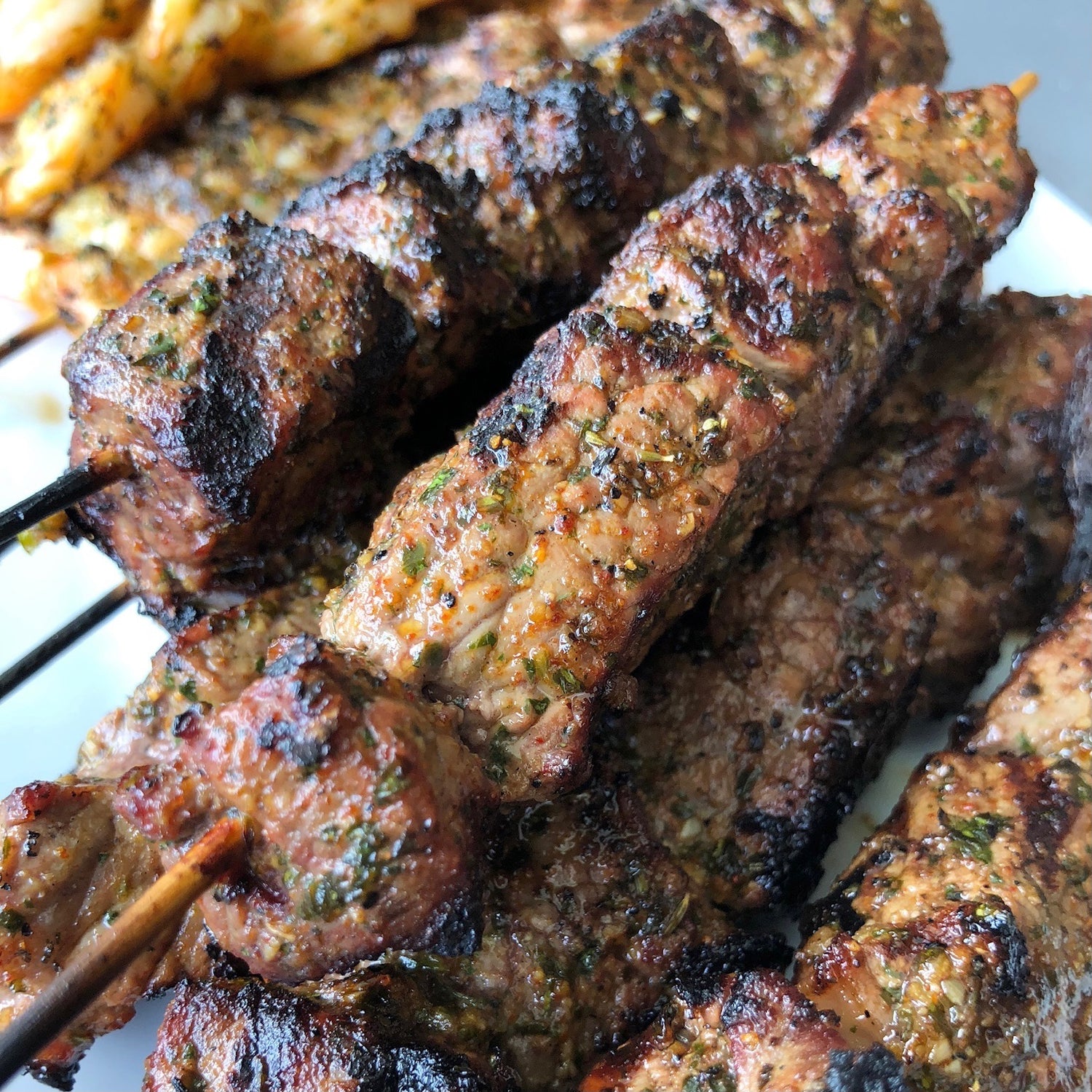 Grilling and Searing with P.S. Flavor!™
Rub 1 pound protein with 1 1⁄2 tablespoons (until well covered) of a P.S. Flavor!™ rub or 1 1⁄2 teaspoons (until lightly covered) of a P.S. Flavor!™ "Kitchen" blend. Grill until done or pan sear.
To pan sear: Heat a nonstick oven-safe pan to very high heat until smoking hot, add 1 teaspoon extra virgin olive oil, and then place seasoned protein in the pan for 1-3 minutes. Flip to the other side & then finish cooking in a 400º F oven until done.

Favorite combos: Chili Lime salmon, Creole Kitchen burgers, Montreal Kitchen steak, Caribbean Kitchen chicken, Smokey Southern pork or trout.